Other Links
Contact Information
Address:
Kathy Shore Nursery
1731 US Hwy 21 South
Sparta, NC 28675
Phone:
336-372-5324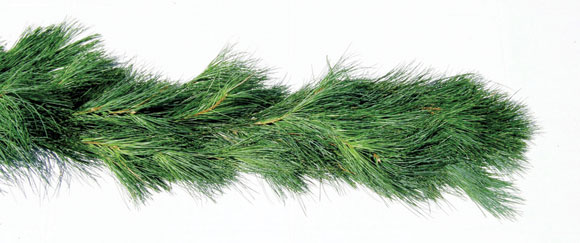 The White Pine Christmas Tree is well known for its long, soft needles giving it an elegant, wispy appearance as the needles lay down flat and uniform. The White Pine makes for beautiful, versatile Christmas Garlands.
White Pine Garlands carry the soft scent of pine, filling your home or office space with the fragrance of Christmas. White Pine Garland has adorned homes longer than any other type of Christmas Garland, so many people associate its distinct scent with their most cherished Christmas memories.
Use White Pine Garland along staircases or wrapped around railings inside or outside your home. White Pine Garland also works well across fireplace mantles as it drapes beautifully. Kathy Shore Nursery offers Wholesale White Pine Garland as well as North Carolina Christmas Trees, and Wholesale Christmas Trees and will help you set up your own tree lot for Carolina Fraser Fir Fundraisers!
More Information
If you need information about any of our services, please feel free to use our contact form, send us an e-mail to info@kathyshorenursery.com, or give us a call at 336-372-5324.