Other Links
Contact Information
Address:
Kathy Shore Nursery
1731 US Hwy 21 South
Sparta, NC 28675
Phone:
336-372-5324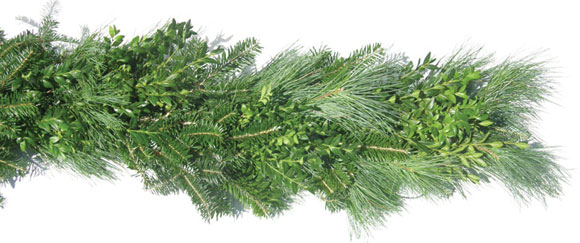 This Christmas season Kathy Shore Nursery is offering the highest quality Luxury Christmas Garland you will find, fresh from the Blue Ridge Mountains of North Carolina. Specializing in Fraser Fir, White Pine, Boxwood, and Mixed Garland, Kathy Shore Nursery's Wholesale Christmas Garland will add warmth and comfort to any home.
If you're looking for something a little different to fill your home with Christmas sprit this year, Mixed Garland is the perfect choice. Traditionally White Pine and Fraser Fir Garland are hung in and around the home. Mixed Garlands combine the best of all three of the garland varieties you will find at Kathy Shore Nursery.
Mixed Garland combines the three types of foliage from Fraser Fir, White Pine, and Boxwood trees. The Mixed Garland will be a classic addition with a little twist to your stairs and doorways. Mixed Garland will fill your home with the forest-fresh aroma of Fraser Fir with the sweet, piney smell of White Pine. Like the other three varieties, Mixed Garland from Kathy Shore Nursery is handcrafted and machine wrapped around durable nylon allowing for flexibility and ease of use.
The Mixed Garland from Kathy Shore Nursery is sure to wow your friends and family. Kathy Shore Nursery cultivates the most beautiful Fraser Fir, White Pine, and Concolor trees you will find in the Blue Ridge Mountains. For information on our Wholesale North Carolina Christmas Trees as well as the rest of our wholesale product line, call Kathy Shore Nursery today!
More Information
If you need information about any of our services, please feel free to use our contact form, send us an e-mail to info@kathyshorenursery.com, or give us a call at 336-372-5324.