Other Links
Contact Information
Address:
Kathy Shore Nursery
1731 US Hwy 21 South
Sparta, NC 28675
Phone:
336-372-5324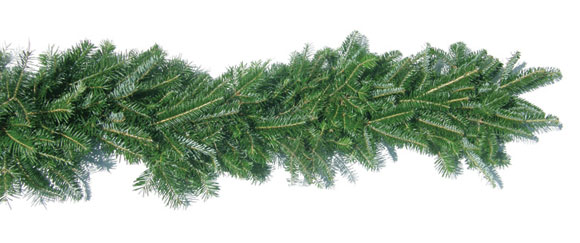 The classic Fraser Fir Christmas Tree Garland is native to the mountains of North Carolina and Virginia. Fraser Fir Garlands fill your home or business with the sweet forest-fresh smell of Christmas—a slightly different smell than the White Pine Garland. Fraser Fir Christmas Tree Garlands make an exquisite addition to the interior and exterior of your home. Fraser Fir Garlands are long-lasting and durable.
Kathy Shore Nursery carefully machine wraps each Fraser Fir Christmas Tree Garland around a nylon core after handcrafting each high quality garland, ensuring durability and long lasting beauty. Kathy Shore Nursery offers Wholesale Fraser Fir Christmas Tree Garland. The Handmade Christmas Garland is crafted, stored, and shipped with quality and great care in mind.
Call Kathy Shore Nursery today for more information on our Wholesale Fraser Fir Garland and our other wholesale products ranging from beautiful North Carolina Christmas Trees to One of a Kind Christmas Wreaths. Kathy Shore Nursery's products will turn any house into a home full of warmth and good will during the holiday season!
More Information
If you need information about any of our services, please feel free to use our contact form, send us an e-mail to info@kathyshorenursery.com, or give us a call at 336-372-5324.