Other Links
Contact Information
Address:
Kathy Shore Nursery
1731 US Hwy 21 South
Sparta, NC 28675
Phone:
336-372-5324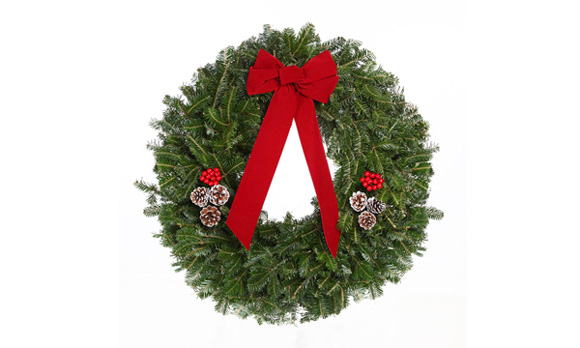 ---
Our Wreaths
Whatever significance your family gives to the beautiful wreaths you'll find adorning windows, doors, and mantles during the holiday season, Kathy Shore Nursery's handcrafted Fresh Christmas Wreaths are ideal. Kathy Shore Nursery offers an assortment of Wholesale Christmas Wreaths. Our Fraser Fir Wreaths, Mixed Wreaths, and Boxwood Wreaths are a simple, elegant way to decorate your home for the holidays.
Kathy Shore Nursery keeps greenery in "cold storage" where temperature and humidity are controlled to maintain the highest level of freshness. Fresh greenery is brought in daily and the wreaths are handmade each day. Our Fresh Christmas Wreaths are made on sturdy but lightweight metal rings, making them easy to hang anywhere, yet strong and able to withstand the elements of the season. Wreaths can be shipped straight to you and are available to be shipped in display crates, standard crates, or per bundle.
Kathy Shore Nursery offers Wholesale Christmas Wreaths as well as Christmas Wreaths for Fundraising. Our One of a Kind Christmas Wreaths are sure to fill your home or business with the warmth of the season. Call today for more information on our Fresh Christmas Wreaths Delivered as well as our other products ranging from Carolina Fraser Fir Christmas Trees grown in the Blue Ridge Mountains to our Luxury Christmas Garland.
More Information
If you need information about any of our services, please feel free to use our contact form, send us an e-mail to info@kathyshorenursery.com, or give us a call at 336-372-5324.