Other Links
Contact Information
Address:
Kathy Shore Nursery
1731 US Hwy 21 South
Sparta, NC 28675
Phone:
336-372-5324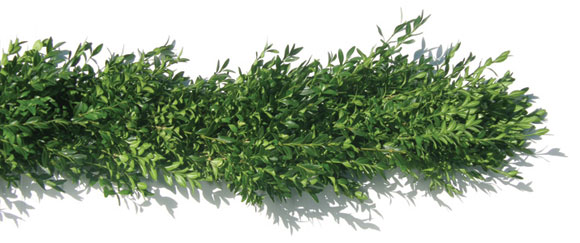 Looking for a beautiful, unique addition to your Christmas decorations? This year, instead of using traditional White Pine or Fraser Fir Garland, decorate your home with Fresh Boxwood Garland from Kathy Shore Nursery. In addition to both the White Pine and Fraser Fir varieties, we offer wholesale Boxwood Garland that has been painstakingly crafted from the boughs of our carefully cultivated trees.
Boxwood Garland is a less traditional garland, but is certainly no less beautiful than more conventional varieties. With its thick, bushy foliage and shiny leaves, Boxwood Garland exudes an elegant quality. A popular choice for banquets and weddings, the Fresh Boxwood Garland is also used during the Christmas season. Fresh Boxwood Garland adds class and sophistication to any occasion—inside or out.
Whether you're draping your Christmas Garland along a cascading set of stairs or adorning the outside of your front door to welcome your guests for the Christmas season, Kathy Shore Nursery's high quality selection of White Pine, Fraser Fir, Boxwood, or Mixed Garland is crafted with longevity and beauty in mind.
When it comes to our Christmas Garlands and Wreaths, Kathy Shore Nursery is dedicated to quality craftsmanship. This dedication to quality extends to all aspects of our business. For more information on Wholesale Christmas Garland, Christmas Trees Wholesale North Carolina, or Christmas Wreaths for Fundraising, call Kathy Shore Nursery today!
More Information
If you need information about any of our services, please feel free to use our contact form, send us an e-mail to info@kathyshorenursery.com, or give us a call at 336-372-5324.