Other Links
Contact Information
Address:
Kathy Shore Nursery
1731 US Hwy 21 South
Sparta, NC 28675
Phone:
336-372-5324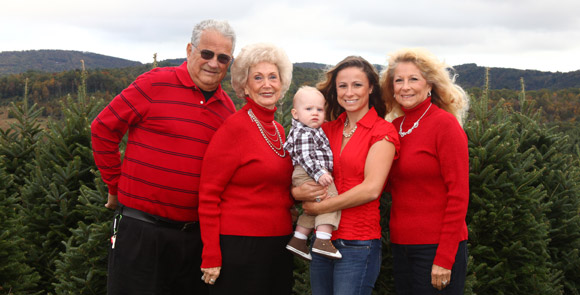 The expertise exuded by Kathy Shore Nursery is the product of over half a century of experience in the Christmas tree industry. For three generations, Kathy and her family have been cultivating the area's finest trees. Beginning in 1951 in Forsyth County, when the cedar tree was the most popular Christmas tree, Homer and Bonnie Sides began growing trees and successfully selling them in retail settings. In the 1980s the Fraser Fir began its reign as the favorite Christmas tree. Because the Fraser Fir requires optimal soil and elevation conditions, Homer and Bonnie Sides chose to move their Christmas tree operation to the Blue Ridge Mountains where conditions couldn't be more perfect for growing the Fraser Fir Christmas Tree. After many years of retail Christmas tree sales, Homer and Bonnie shifted their operation to a strictly wholesale business.
Homer and Bonnie had three daughters, all of whom continued in the Christmas tree industry. Their daughter Loretta married Jerry Shore, a flavor specialist for RJR Tobacco Company. They spent their weekends traveling to the mountains to maintain and care for their own Christmas trees. This soon became a full-time operation and, following many years in the retail sector, their business became a wholesale operation as well.
Jerry and Loretta Shore had one daughter, Kathy, who grew up surrounded by Christmas trees and who always knew that one day she would become a part of the family business. At the young age of 16, Kathy began her entrepreneurial endeavors by selling Fraser Fir limbs left behind in the fields to be used for making Christmas wreaths and garlands, and established Kathy Shore Nursery.
With the help of her parents, Kathy planted her very first field of trees. She moved to Sparta, North Carolina, and began making wreaths and garlands for Homer and Bonnie Sides's customers. Kathy Shore Nursery has evolved into a large scale wholesale business offering Fraser Fir Christmas Trees, garlands, and wreaths. With over 100 years of combined experience in the North Carolina Fraser Fir Christmas tree growing industry, this family cultivates superior Fraser Fir Christmas Trees, garlands, and wreaths that adorn homes and businesses across the country each holiday season.
More Information
If you need information about any of our services, please feel free to use our contact form, send us an e-mail to info@kathyshorenursery.com, or give us a call at 336-372-5324.