Located in the beautiful Blue Ridge Mountains, Kathy Shore Nursery is the area's premier Wholesale Christmas Tree Nursery. Our passion for keeping up with the latest technology and dedication to providing our customers with only the finest North Carolina Christmas trees has earned us a reputation for excellence. If you're seeking a selection of the area's most carefully cultivated trees, handcrafted wreaths, and festive garlands for your family's holiday celebration, you'll be delighted by the assortment of products Kathy Shore Nursery has to offer.

Here at Kathy Shore Nursery we take pride in every step of the process of growing our trees to shipping them to you. In addition to the famed Fraser Fir, we also grow high quality White Pines and Concolor Christmas Trees, and we're more than happy to palletize your purchase. We're certain that one of these exquisite species will lend itself to your family's unique holiday traditions, providing the perfect backdrop against which you and your loved ones can create lasting memories.
At Kathy Shore Nursery, you'll find more than just perfect Christmas Trees. Because we know it's the extra touches that truly make your house feel like a home, Kathy Shore Nursery also offers an assortment of Wholesale Christmas Wreaths and garlands. Our Fraser Fir Wreaths, Mixed Wreaths, and Boxwood Wreaths are a simple, elegant way to decorate your home for the holidays. If you have a mantle or staircase, our Luxury Christmas Garland will fill your home with Christmas cheer. With White Pine, Fraser Fir, Boxwood, and Mixed Garland to choose from, we know you'll find the perfect Christmas accessories for your home here at Kathy Shore Nursery.
If you're looking for a way to brighten up your next holiday season, visit Kathy Shore's Wholesale Christmas Tree Nursery in Sparta, North Carolina, where you'll find only the highest quality products and most affordable shipping options. Kathy Shore Nursery cultivates each seedling with special care until it grows into the perfect centerpiece for your family's Christmas celebration, and our wreaths and garlands will lend a festive touch to any room in your home. We're so passionate about our industry that we'll even lend our expertise to those interested in putting together their own Christmas tree lots for retail or charitable purposes. Contact Kathy Shore Nursery today for all your Wholesale Christmas Tree needs! We look forward to making your holidays unforgettable!
More Information
If you need information about any of our services, please feel free to use our contact form, send us an e-mail to info@kathyshorenursery.com, or give us a call at 336-657-7585.
Trees for Troops
Trees for Troops spreads Christmas cheer from Ashe to Virginia, Texas bases When the Trees for Troops program came to Ashe County in 2005, local farmer Cline Church wasn't sure how long it would last. "We thought in two or three years, it would fizzle out," Church said with a big smile. "But here we are." As he moved about the indoor storage facility Tuesday along U.S. 221 at Cline Church Nursery, his smile was infectious. The program is strong and shows no signs of fizzling. Volunteers were on hand with sweets and hot drinks, to load trucks, and donated trees from farmers... click here for more
Save Money & Time!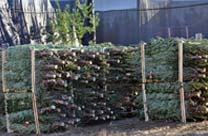 Kathy Shore Nursery can palletize!
Photo Gallery
Please check back soon...